Professional knee protection
Welcome to Nierhaus GmbH
Knee pads directly from the manufacturer
Safety in every profession through professional knee protection
Professional knee pads significantly reduce the risk of industrial accidents in terms of bruises, bruises and abrasions on the knee. This doesn't just apply to obvious professions like floor layers, landscapers or tile setters. Craftsmen in other fields also benefit from choosing the right knee protection for their kneeling work.
Higher performance with the right knee pad
In the long term, you protect the employee's knee from chronic diseases and signs of wear and tear of the knee joint, which can lead to occupational disability. The employee's performance is increased by a carefully crafted knee protector that is adapted to the industry, because kneeling activities can be performed painlessly and comfortably as a result. The alternative of a squatting working position often chosen by workers is not an alternative to knee protection from an occupational health point of view because of the resulting overstretching of the ligaments.
Due to the contact surface and the soft embedding of the knee in the knee pad, the pressure on the kneecap and the knee joint is evenly distributed and reduced, resulting in the necessary relief and a lower risk of wear.
Better knee pads through decades of experience
Protecting employees' knees properly is thus an important economic factor of the business. Developing the right knee pads for a wide variety of industries and load types is a task we have been successfully tackling for decades. Material composition and processing are the most important criteria here, which guarantee the right protection, durability and wearing comfort.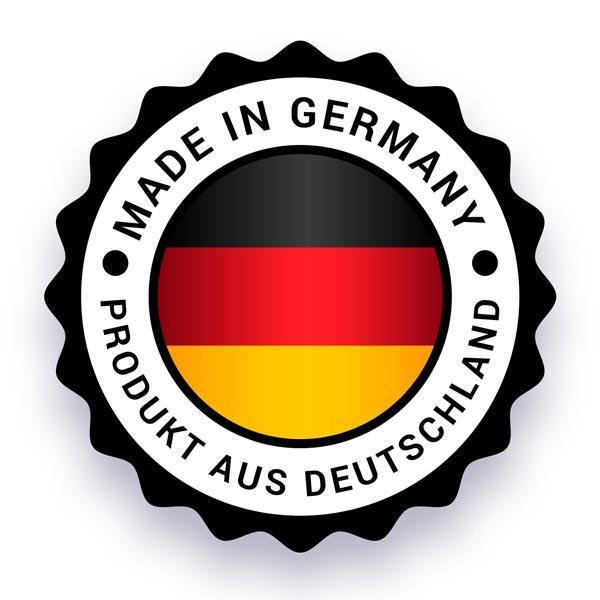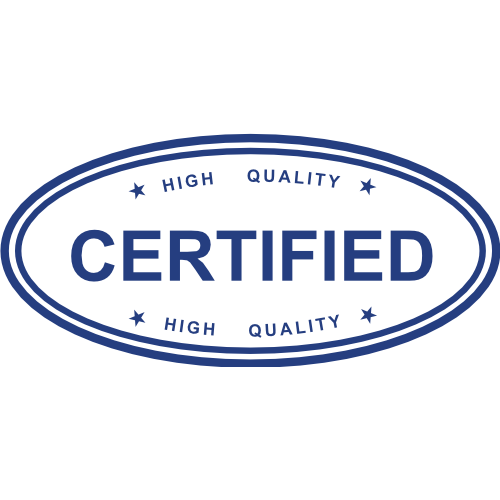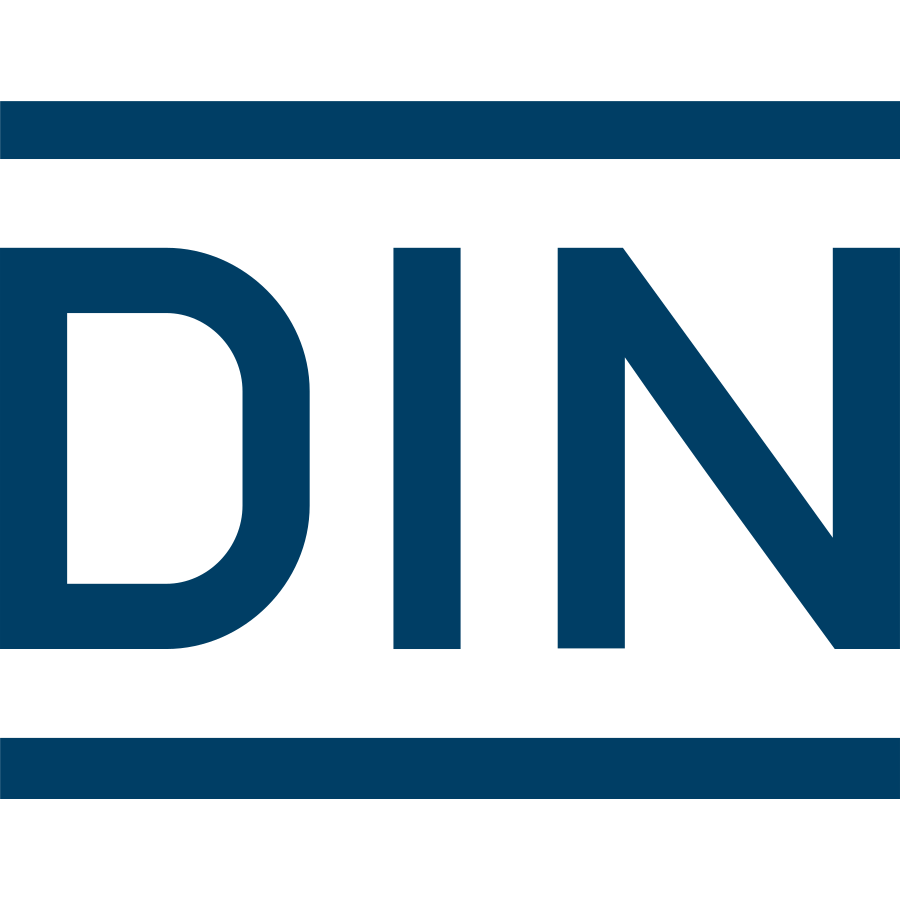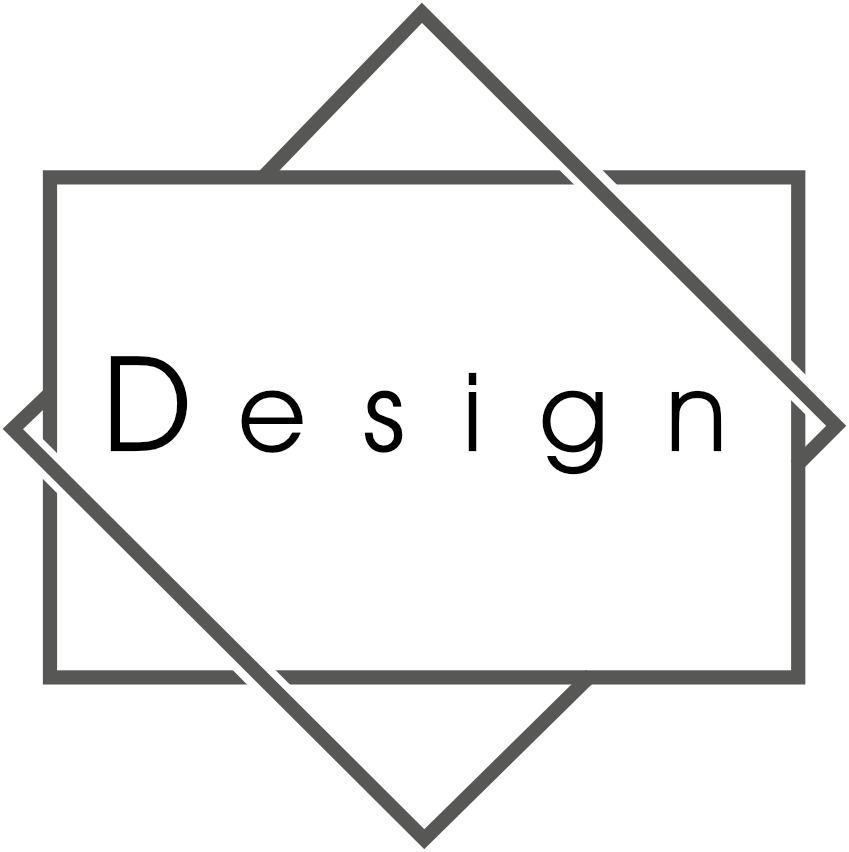 Professional knee pads are available from us in many variants, all with the aim of protecting your knee health and preventive support.
Knee pad type 1 – The first choice for long, kneeling work
For predominantly prolonged kneeling activities, wrap-around knee pads (knee pad type 1) are the best choice. They provide very good protection with great comfort and freedom of movement and the hands are always free. This allows you to work comfortably in different postures and the pressure relief on the knee is immediately noticeable. The knee pads are attached with certified very stretchy straps. They are at least 3 cm wide and run below the back of the knee. This prevents pinching in the back of the knee.
The use of different materials in the knee pads for strapping allows us to design particularly important properties for the particular purpose. They are, for example, particularly impact-resistant, particularly thick, particularly robust, particularly hard-wearing for use in landscaping and road construction. Particularly soft, particularly light and non-abrasive for floor layers with sensitive material. Thus, for different areas of application accordingly well suited.
The right knee protection for every craft
You will find an overview of the various crafts and the appropriate protectors for each in our range.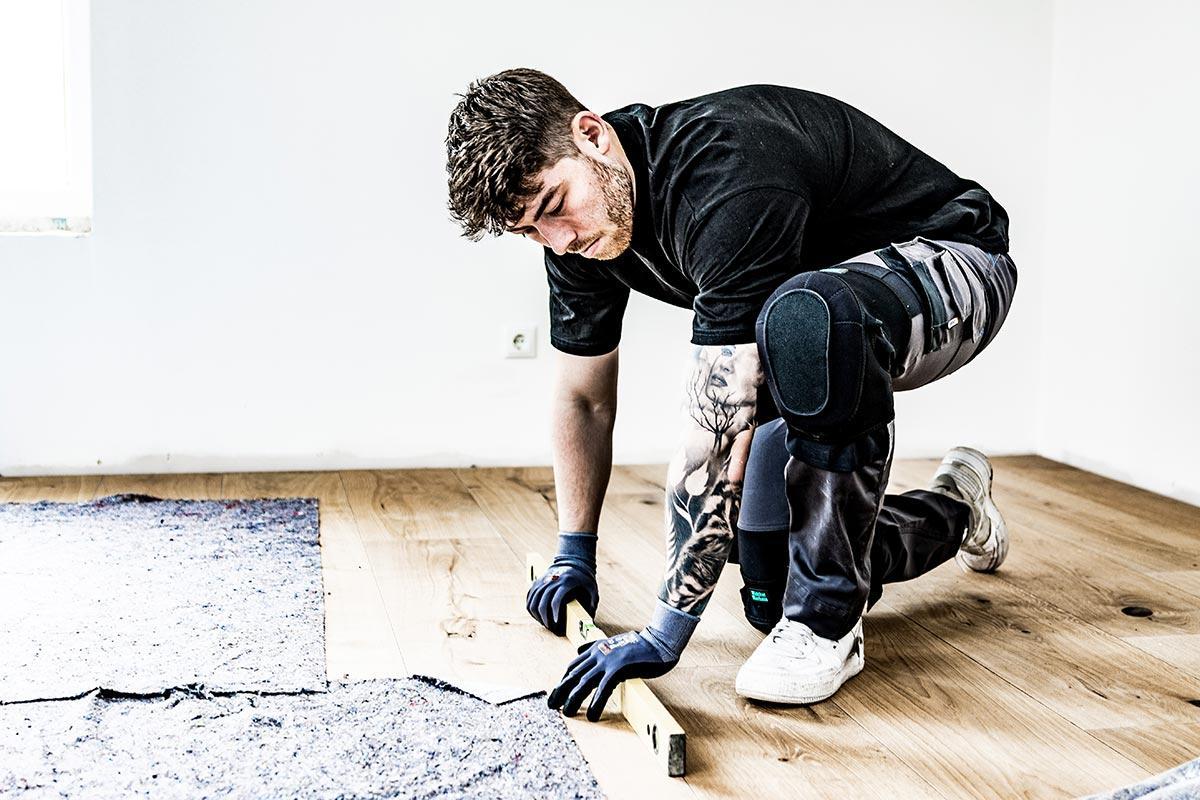 Knee pads & insertion cushions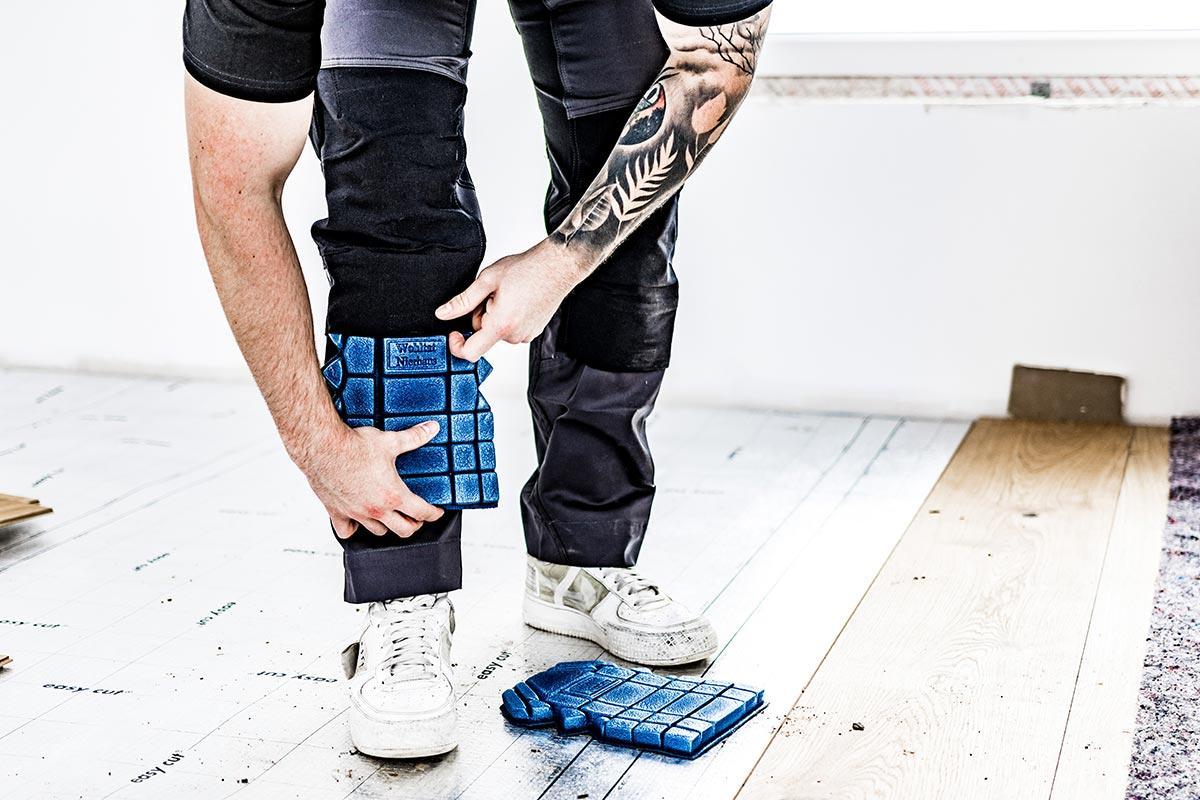 In some industries, such as painters or electricians, wearing knee pads in work pants is a very good alternative. However, it is important that the work pants fit properly and that you actually land on the knee pad when you kneel down. We offer the knee pads in different thicknesses and materials.
Especially popular are the polyethylene knee pads, because they are so light and soft. For very frequent use and high weight, we also recommend cellular rubber knee pads as an alternative, as these are much more durable in comparison, as the material is more resistant to pressure. Both pads naturally comply with the specifications of EN 14404. You can find a selection of our knee pads in our knee pad range.
We are happy to take custom knee pads on order.
Knee cushions are becoming increasingly popular as an alternative to knee pads. They are ideal for work with few space changes. Our knee cushions are all made of durable polyurethane and have very good recovery properties, which means they do not flatten even after frequent use. Depending on the requirements for thickness and ergonomics, we have different knee cushions in our range.
In combination with a knee cushion, our knee roll is suitable as an aid for large-scale work on flat surfaces. Our kneeling roller is sturdy and is a super option for any professional who does kneeling work. Even after hours, fatigue-free work is still possible. Ideal for laying floors and tiles, grouting, painting or silicone work. The Knierolli, for example, can be used to work along the joints without any problems or interruptions. Our knee roll is also a popular supporter in workshops, both for ease of movement and for optimal knee protection.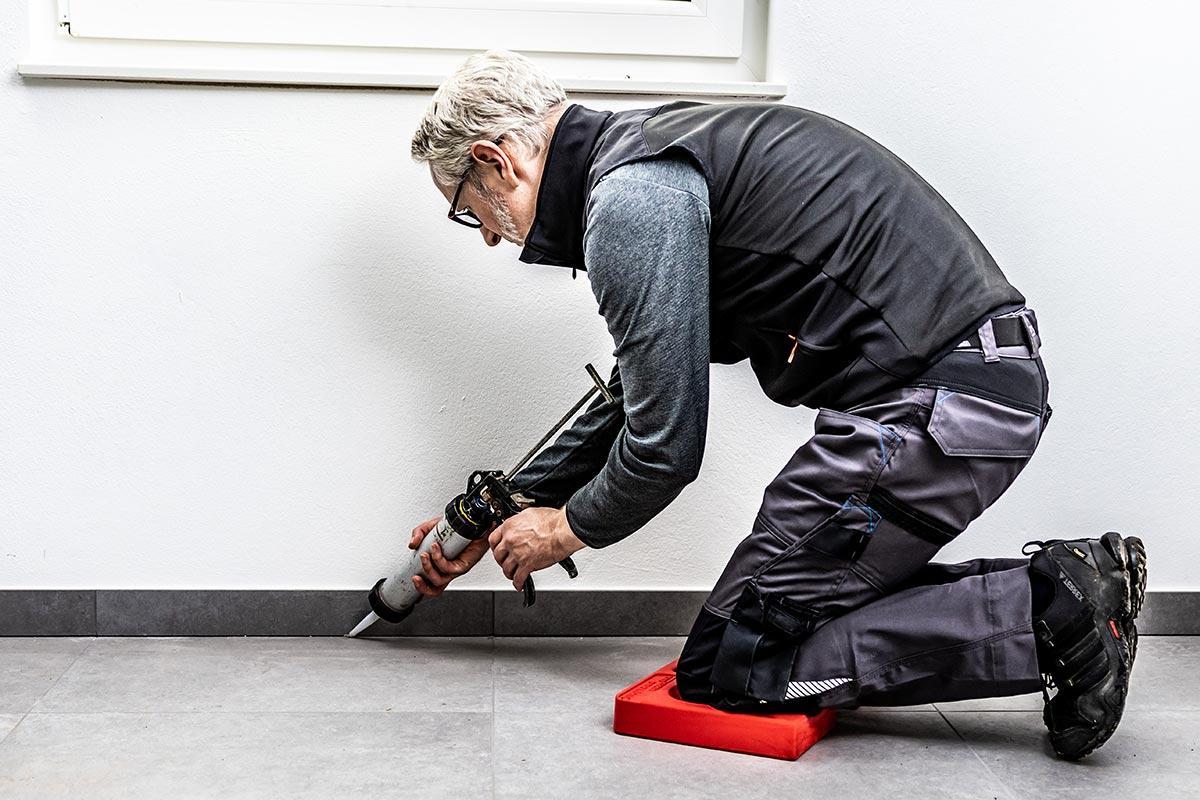 Sales partner for FENTO knee pads
Ergonomic knee pads
We are FENTO sales partner for Germany, Austria and Switzerland.
FENTO is a Dutch manufacturer of high quality ergonomic knee pads. FENTO professional knee pads are designed to prevent injuries and make the workday more comfortable and productive.
They achieve this through their unique ergonomic concept, which distributes the pressure on the lower leg. FENTO was founded by an end user from the practice and his physiotherapist. Ergonomics, comfort and durability are the keywords for FENTO knee pads. All products are the result of years of development and thorough testing. In addition, FENTO knee pads are lightweight, flexible and waterproof.
The FENTO range includes the FENTO ORIGINAL and FENTO MAX, premium class knee pads with an ergonomic fit perfect for intensive use. Whereby the FENTO MAX offers you even more support.
The FENTO POCKET is a flexible insert that fits into any work trousers.
The FENTO BOARD, an abrasion resistant and high quality knee pad for professionals who need more mobility. The wide surface provides optimum stability and pressure distribution. This prevents knee and back pain. The handle makes it easy to take the FENTO BOARD to any location.
Of course, we also offer all the FENTO ACCESSORIES. Because you can replace the straps and inserts with FENTO, the knee pads last longer and you save money.
You can find all FENTO model in our assortment or directly in our store.
Please note that the FENTO HOME is only available on request.
You are a dealer in the field of occupational safety and would like to include our products in your range?
You want to equip your employees for kneeling work with the best knee pads and need advice?
Contact us by mail at Nierhaus@nierhaus.de or by phone +49 5222 59459.